ARC Training is LAUNCHING its Digital Badges and Certification Program this week!
ARC Training is committed to supporting our students to achieve their professional goals and to stand out in the employment market. In today's world, that means increasingly supporting our students in a digital capacity to gain a competitive edge with their online professional presence.  As such, a few years ago we began work on a project to provide our students with digital badges and credentials. After a considerable amount of work, we are proud to announce that this week we are officially launching the ARC Training Digital Badges and Certification program for our students.
This innovative new program is in partnership with Credly, the leading provider of digital credentials. Digital badges are the new way to recognise and validate a student's learning achievements, employment skills, and knowledge in digital environments. Once earned and issued to the student, they can be shared online, displayed on social media profiles, embedded into website bios, and added to email signatures. They are visual icons that hold verified metadata about skills and achievements. They are uniquely associated with the individual that earned the badge and link back to a personalised profile on the Credly platform. This means that you can share your Digital Badge everywhere, knowing that your data and achievements are securely attached to you and cannot be "taken" by someone else. 
What is Credly? What are Digital Badges?
ARC Training has partnered with Credly to bring our community this program. Credly is the leading international provider of digital credentials, with over 50 million verified earners and badges being shared across its platform. Credly was recently bought out by the Pearson Education Group, and counts reputable organisations like Adobe, AWS, IBM, DELL, and ORACLE among its clientele. ARC Training felt Credly was the best Digital credentialing company to partner with to provide our students with safe, secure, and verified Digital Badges. We wanted to make sure we provide our students with a digital version of their qualification certificate that they can use to showcase what they've accomplished with a reputable provider.
A Digital Badge is a digital representation of a learning outcome, experience or competency. Based on the Open Badges Standard. Credly badges can be shared and verified online in a way that is easy and secure. Credly badges link to metadata that provides context and verification. They can be shared across the Internet for maximum visibility and recognition. An ARC Training badge issued through Credly will contain information describing the student's qualification and will allow students to easily share their achievement online across platforms like LinkedIn, social media, email signatures and websites. Students will still receive a traditional hardcopy qualification certificate (this will not change) however, alongside the traditional certificate, they will also be invited to accept and share their digital badge.
Shown below is an example of what an ARC Training Digital Badge could look like. It would appear as an icon sized image wherever you choose to share it. People can click on the Digital Badge and be taken to your Credly profile to view the details of the qualification.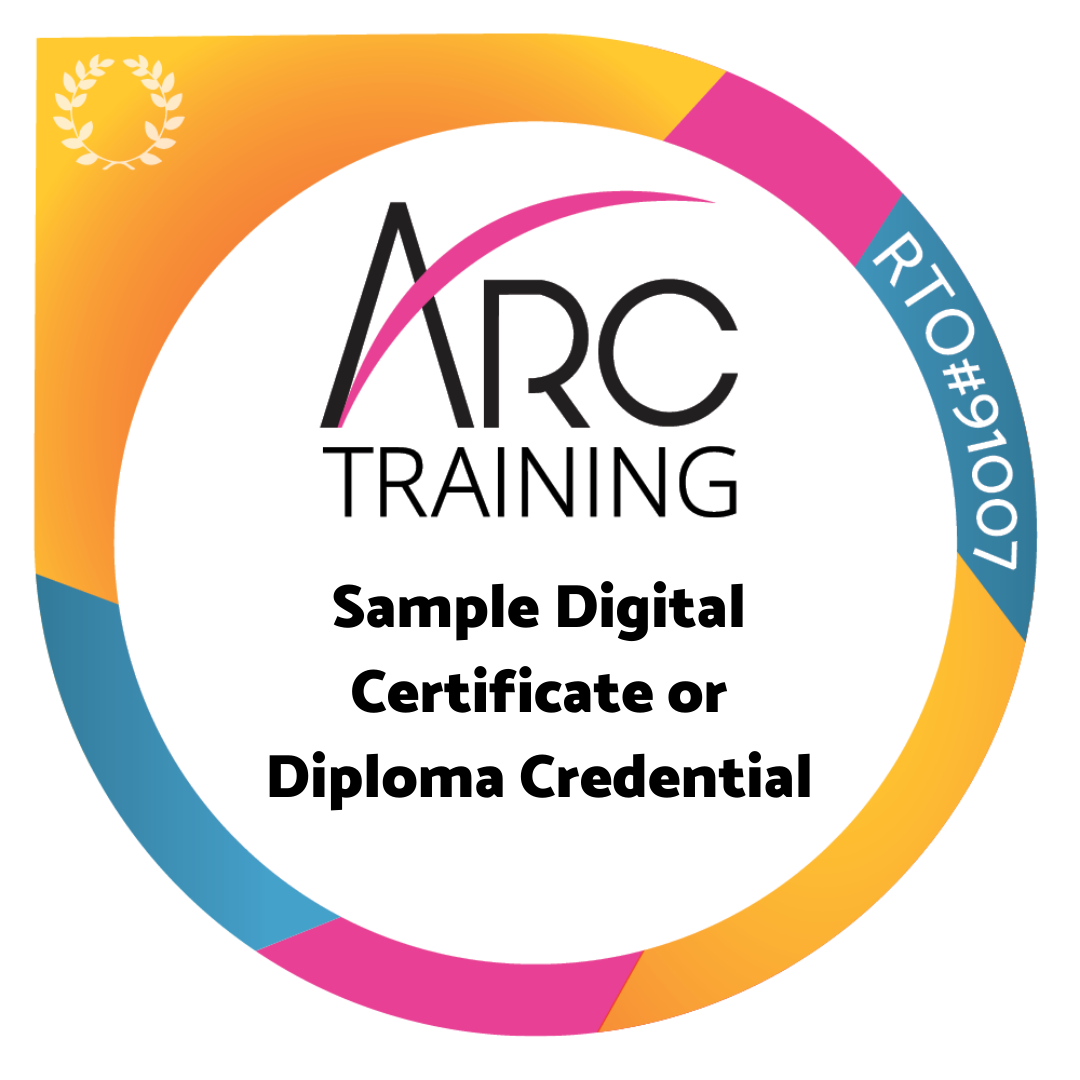 What are the benefits of a digital badge?
For Employers
Showcase your workforce's talents by sharing their digital badges on your digital media
Attract new staff by showing them your team's digital badge collection and your business's commitment to workforce development
For Students
Easily manage, share, and verify your learning achievements
Secure verification adds credibility to your achievement
Labor market insights connect your skills with active job opportunities
A way to stand out from your peers when seeking employment opportunities
For Recruiters
Quick, trusted, and verified way to know which applicants have credentials of interest
Insight into the Student's comfort with and skill for digital applications
Who will receive the Digital Badges?
All eligible students who have completed qualifications in the past year will be issued retrospective badges and credentials. Over the next few weeks our administration team will be going over the past 12 months of student records to start identifying students who are eligible for a digital badge. As you can imagine, this process will take a little time.  Our Admin team will create a list of eligible students and once that list is complete, we will then begin issuing badges to students who have successfully completed a qualification in Transport and Logistics, Business or Community Services. This will occur in stages starting from this week (starting the 16.05.2022) until all retrospective badges have been issued. Going forward, all students who complete their qualifications will automatically be invited to join the Credly platform and accept their ARC Training Digital Badge or Credential.
We will notify eligible students with an email inviting them to accept a Digital Badge and to set up a profile on Credly. Credly's management of your profile and ARC Training's Digital Badges and Credentials is free for students – ARC Training bears the cost of the service, and no student will have to pay anything to accept or share the badge they earned.  
Once you have accepted your Digital Badge start sharing it online! Use #EarnShowShare to tag us wherever you share your Digital Badge so we can join your followers in celebrating your achievement! 
Are ARC Training's Digital Badges only available for Nationally Recognised Qualifications?
At present, ARC Training Digital Badges are only available for nationally recognised qualifications in Transport and Logistics, Business or Community Services. We will look to increase the types of badges we issue after the initial launch has been completed. If you are interested in bespoke digital badges being issued to your employees for training they have completed with us, please email annette.dennis@arcgroup.com.au to enquire further.
Our teams have already suggested creating badges that recognise student achievements like nominations for various State Training Awards – We are open to hearing suggestions from our community about what badges we should develop. If you have an idea for a badge, please email marketing@arcgroup.com.au to share your thoughts! 
Where can I go to learn more?
We have set up a dedicated webpage for information related to ARC Training's digital badge and credentials program – you can read more by clicking here. Alternatively, you can also go to the Credly website by clicking here for a range of comprehensive support materials.
Our team is also available to help you get access to your Digital Badge, please email support@arcgroup.com.au with your enquiry. 
We hope that the businesses and the students we work with can take full advantage of this initiative and enjoy the convenience and professional recognition afforded by our badging program.
Stay tuned for more information and thanks for being part of the ARC Training community!
Best wishes, 
The ARC Training Team.
#EarnShowShare!